Colouring Draw Contest


---
Looking to get your hands on some new fishing equipment? Then look no further! Enter the OFFE Colouring Draw Contest for your chance to win a fishing rod & tackle prize package from our sponsors!
Colour the drawing any way you like, complete the form and email it to offe@ofah.org
OR
  mail it to:
Ontario Federation of Anglers & Hunters
PO Box 2800
Peterborough, ON  K9J 8L5
This draw is open to children 12 & under. Submissions are due by July 31, 2022.
Draw will take place August 2022.
**Note: This is a draw, not a competition**
Download image here: Summer 2022 Colouring Draw PDF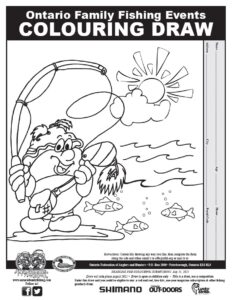 Good Luck and Get Fishing!